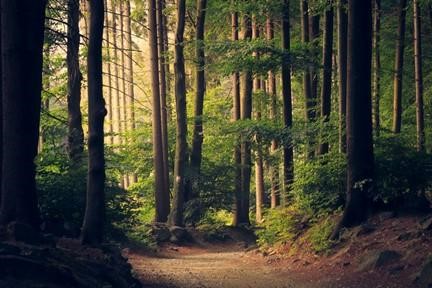 Michael Treco Explores the Natural World Through Art 
Michael Treco is a jack of all trades who also manages to be a master at some. His latest endeavor is joining Columbia University's Teachers College Young Alumni & Student Engagement Committee as a volunteer member. His background in science and teaching are valued assets and he looks forward to using his experience to contribute to the organization.
While his pursuits include academia and the education of young minds, there is another trade that Treco has been plying for many years, which is also the focus of his upcoming blog: 2D and 3D creative art. He works in acrylic and watercolor paints, woodblock prints, collages, and mixed media.
As the blog gains momentum, readers can look forward to in-depth posts on Treco's creative techniques, artistic inspirations, works in progress, and more. In the meantime, he's put together a brief rundown of his artistic process and how he uses the natural world to fuel his creativity.
How Michael Treco Finds Inspiration and Sparks the Creative Process
Treco has always had a strong interest in the natural world, from experiencing and appreciating its beauty to preserving and protecting it from the threats of habitat loss, resource depletion, and climate change. In his early 20s, he oversaw the lands and trail systems owned by a private land trust and experienced firsthand the urgent need to minimize human impact on the environment and maximize conservation.
It was also through these experiences that Treco witnessed the potential of the natural environment to support humanity through community building, resource allocation, and outdoor recreation. It was these intimate experiences with the natural world that led him to see nature as his muse and as a limitless source of creative inspiration.
Using Nature As a Creative Muse
The first stage of Treco's creative process is to fill his "well," so to speak, by spending as much time as possible surrounded by nature and her rhythms.
When he is embarking on a new project, he devotes several hours to simply being in nature — always in solitude — and soaking up the tranquility and latent energy of the Earth. The sound of waves lapping at a sandy shore and the sight of dappled light filtered through forest trees are potent sources of inspiration and a powerful reminder that all life on the planet is connected.
‌
However, all is not flowers and gentle breezes in Treco's work. Many of his 2D and 3D creative works had their genesis in the aftermath of natural disasters, such as his series " Rebuild Masks," which was created in response to the devastation of Hurricane Katrina in 2005. Several of his ceramic works were inspired by his experiences in Ghana as well, witnessing firsthand the hardships wrought by the land's scarce resources. Nature's untamable beauty and power are present in equal measure in Treco's approach to art.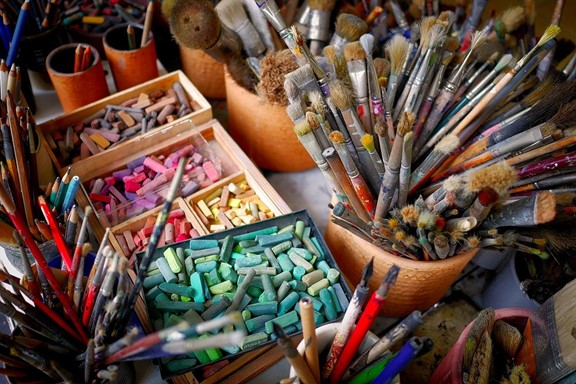 Selecting Materials
With a project beginning to coalesce in his mind, Treco goes about the process of selecting the best materials to bring his vision to life, whether that means picking up a paint brush or heading to the riverbank.
As a multi-faceted artist who moves easily between different media and genres, he often likes to combine traditional artistic tools, such as watercolor and acrylic paints, with the fruits of nature itself. Some of his previous projects have incorporated reclaimed driftwood, fallen maple trees, bluestone, and natural clay.
‌One of Treco's reasons for using raw natural materials as artistic media is a desire to "work with nature as opposed to trying to dominate it." The use of repurposed materials from nature lends an unmistakable vibrancy to his work, and many of his art pieces are also functional objects, doubling as lanterns, benches, and more.
Allowing the Project to Incubate
One of the most important stages in Treco's artistic process is the period that comes after the initial frenzy of creative work is complete. He steps back from the work for several days or weeks to allow it to "settle," so that when he returns to it at a later time, he has a more objective perspective on what he has created and how to move it toward its ultimate form.
Treco likens this stage to winter's place in the cycle of seasons as a time of dormancy, when creative energy goes underground for a time before reemerging in an explosion of color, beauty, and fertility in the spring. He finds that the time away from his project allows him to see it in a new light, and the way forward is usually much easier to discern.
Declaring a work finished
The final stage of Michael Treco's artistic process is the one he struggles with the most: when to declare a work finished.
Poet Paul Valery coined the expression that "no work of art is ever completed, only abandoned," and Treco takes this piece of wisdom to heart. He works on a project with intense focus, adding and subtracting elements with careful thought and consideration, until a point when the creative flame dies out. Of course, there is always one more finishing touch or final detail that could be tinkered with, but knowing when to walk away is key to preserving the artistic integrity of the work — and conserving energy for the next project, which Treco likes to undertake immediately.
As Treco moves into the next stage of his life and career, his artwork will continue to be an ever-present source of inspiration and personal fulfillment. He looks forward to using his creative gifts to contribute to the intellectual and emotional development of his students, his peers, and himself.
Follow Michael Treco's Blog for More Insider Art Talk
Michael Treco's blog is an active repository of the artist's works and musings. Check back frequently for updates on ongoing projects, sources of inspiration, in-depth art criticism, practical tutorials, and more.